Mid South Club is the 18th Ranked golf course in North Carolina
The sandhills of North Carolina.
It is where rolling hills are capped by deep, coarse sands, while longleaf pine is the dominant tree species in what is considered a harsh, growing environment, these longleaf pine and Wiregrass forests may well be the most diverse North American ecosystem north of the tropics, containing rare plants and animals not found anywhere else.
Within the heart of the North Carolina Sandhills is a storied legacy of golf, unlike any other place in the country.
In 1990, when Arnold Palmer was asked to design the layout here at the Mid South Club in Southern Pines, he was given a tract of land where the rolling terrain seemed like the perfect place to build a championship-style golf course.
By 1993, the first rounds of golf were being played at Mid South Club, and not long after that, the Mid South course began hosting qualifying tournaments for the U.S. Open. U.S. Senior Open and U.S. Amateur.
One of the unique features of this golf course here at Mid South Club can be found with the water hazards that can and do come into play.
Palmer's routing of this golf course took advantage of the natural elevation changes both off the tee and around the greens.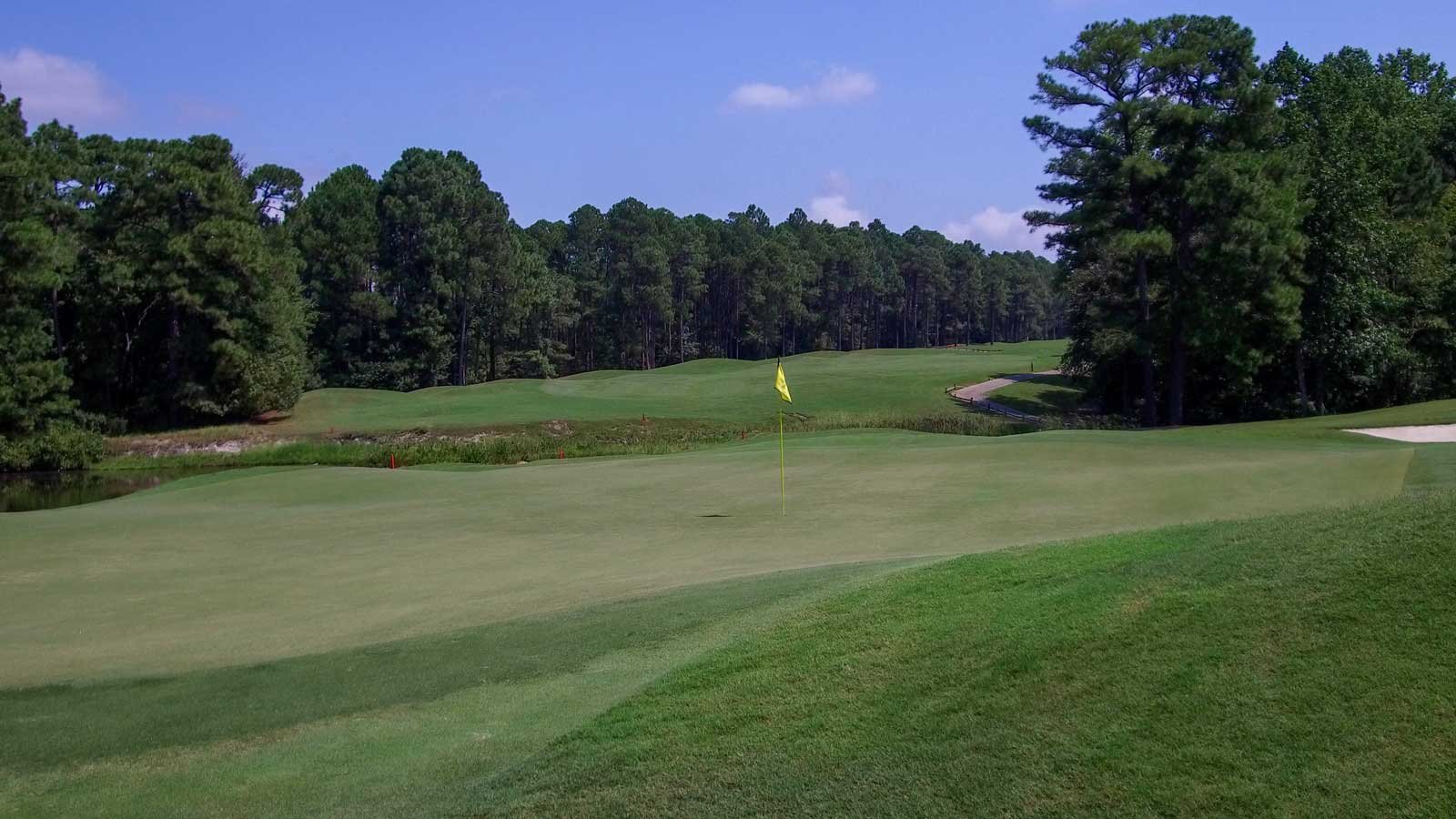 There is no doubt Mid South Club is a golf course that will test your shot making abilities.
"There's a lot of humps and bumps in the fairways here, along with a lot of uneven lies. So, it's hard to find a flat spot, and that is part of the character of the golf course.

Matt Hauser, PGA

General Manager
With its six sets of tees, you can choose just how much of a challenge you would like in your round.
From the back Gold Tees, the golf course here at Mid South Club plays to just over 7,000 yards and features of course rating of 73.8 and a slope of 144. Moving it up to the Blue Tees, the layout plays to 6,577 yards and features a course rating of 71.9 and a slope of 134. For the ladies, the Red Tees played 4,773 yards.
Throughout this Palmer design at Mid South Club, you'll find an ample amount of opportunity to post a good score, especially on the par fives.
"Most of them can be reached in two. I mean you're going to have some trouble in front of the green nine a little long, but you get a good drive out there you can get there in two."
Palmer also offers the golfer a good mix of par fours. Some require a driver off the tee and others do not.
While you'll not find an inordinate amount of bunkering throughout this golf course at Mid South Club, Arnold Palmer does place them along, with waste areas in strategic locations, including the green complexes.
Around the greens, you'll find ample protection with grass mounting and bunkers.
"For the most part, you can get out without much of a problem. With the greens being fast, it does make it a little more difficult to get it close to the flag, but you can definitely get out. They're not they're not crazy difficult to get out."
The Arnold Palmer-designed golf course at Mid-South Club in Southern Pines, North Carolina, has 18 Marvelous holes of golf and is a must-play whenever your golfing plans take you to the Pinehurst area.
Mid South Club is #1 Private Club in the Sandhills/Pinehurst area as ranked by Pinehurst Magazine
"Ranked in Top 20 Best Courses in North Carolina." – Golf Digest
"One of the country's top 18 newest & best golf communities." – Robb Report
"Top 100 Courses to play in 1996." – Golf Magazine
Top 100 Courses in America – GolfLink.com
Mis South Club was given 4 ½ stars by Golf Digest
Click here for more video tours and reviews of public golf courses around North America and the Caribbean.